Removes all salts and contaminants
Prevents flash rust for up to 72 hours
Leaves no residue
Extends the life of coatings
Suitable for food grade service
Water-based
Non-acidic
Neutral pH
Biodegradable
Non-Solvent
Non-VOC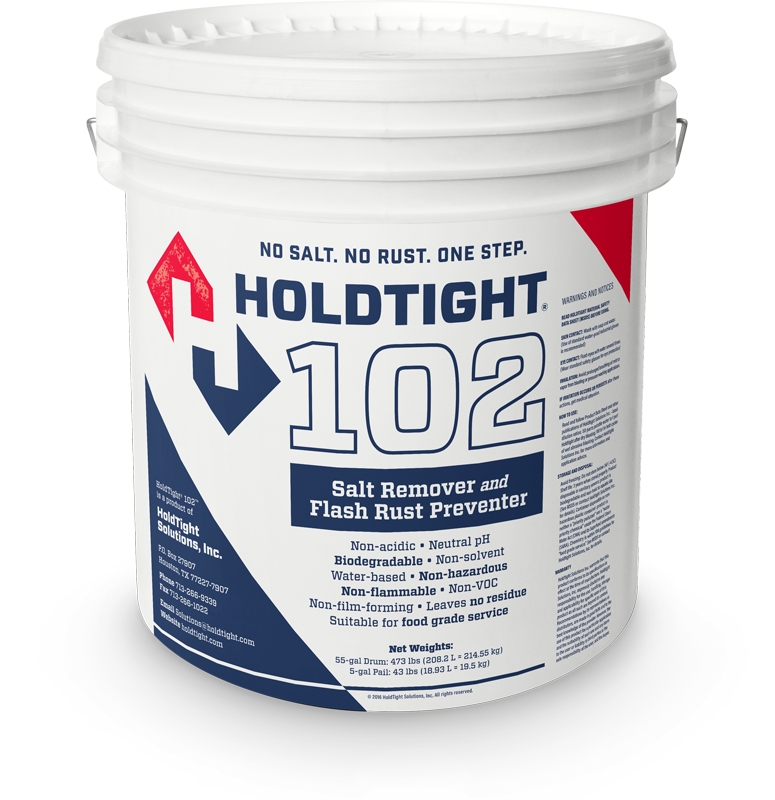 No salt. No rust. One step.
Clean surfaces simply don't rust, and no other product cleans like HoldTight®
Extend the life of nearly any coating with HoldTight® 102—the ultimate surface prep solution. Reduce the costs of maintenance, repainting, and surface preparation by using the industry's most trusted salt remover and flash rust preventer.
HoldTight® is a wet blasting additive that decreases the water's surface tension, allowing it to get into the pores of the surface and remove ALL contamination, including salts, acids, abrasives, light oils, and greases. HoldTight® leaves behind zero unwanted residue, and evaporates with the water, providing a surface that is thoroughly clean and ready for a tightly adhered coating bond for up to 72 hours.
Blasting water treated with HoldTight® onto a surface prior to coating removes all naturally-occurring contaminants (salts, acids, conductives). HoldTight® also removes byproducts of the blasting process (shattered abrasives, dried paint) lodged within the pores of the surface, allowing for the most adhesive bond possible between the surface and the coating.
HoldTight® is safe and effective on a wide variety of surfaces, delivering superior surface preparation, with proven results on land, at sea, on storage tanks, on bridges, on oil rigs and even for specialty projects like restoring vintage cars. The cleanest surfaces are achieved when the product is used in both the blast and wash-down cycles at a 50 – 100 (water to HoldTight® 102) ratio. HoldTight® is the only product that extends the life and value of your assets for just pennies per application.